28 September 2020
We're Ready To Help...
---
Right now, Wales is in various stages of lockdown and
wherever
you are, we hope you are staying safe and in good health.
Whilst there are many restrictions in place at present, there are also several legitimate exceptions outlined by the Welsh Government to enable necessary and important activities to take place where needed. 
If you're in the public sector, be it education and learning, health, local or national government it could be that we can help you fulfil the necessary tasks you still have at hand. 
It's
a new normal. Whilst we hope it
doesn't
stay like this,
we're
here to help and ready in this season.
We've spent the last few months diligently preparing our spaces to be suitable to host you. Along with this, our cleaning and hygiene protocols have been radically overhauled to ensure all our visitors are kept as safe as possible. 
We've partnered with the 'We're Good to Go' scheme here in Wales for the added assurance that we are ready to host you and help you every step of the way.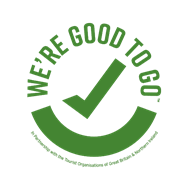 We've successfully been doing this for the past month tweaking and improving our covid safe practices in that time too. 
So, for any enquiries please do email our conference team. We would love to hear from you and talk through your current needs and requirements. 
---
Make an Enquiry
Related News
The team at The All Nations Centre were fantastic and gave us lots of flexibility in the lead up to our healthcare conference , and the catering on the day was superb!

Melissa O'Connor

Event Manager, NHS

Conference Space

What we do